before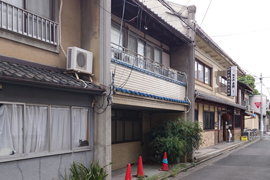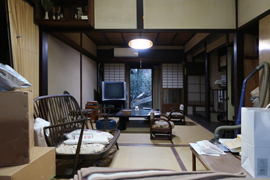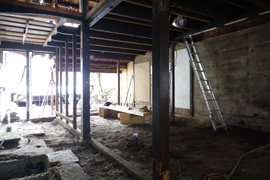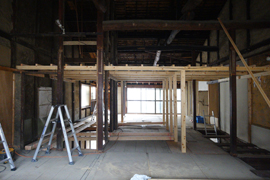 京都市内にある築120年以上の歴史をもつ京町家のリノベーションを行った。
道路に面して母屋があり奥に庭があるという一般的な京町家の構成だが、
間口約6mに対して奥行が35m強と極端に奥深く敷地の過半が庭であった。
度重なる改築で失われていた「通り土間」や「火袋」といった京町家特有の構成を復元することを意識し、
そこにヴォリュームとしてまとめた機能が点在するように設計していった。
「通り土間」により家の表から裏を一直線に通る裏動線ができ、
「火袋」によって光や音、匂いなどが上下階でゆるやかに共有される。
そして〈機能のヴォリューム〉の残余部分が〈家族のスペース〉となっている。
大きさも高さも異なるヴォリューム群は各所に街並みや都市を想起させる景色をつくり、
ヴォリューム群と既存の柱梁や壁面、床のつくりだす隙間や抜けは、空間に連続性を生み出している。
「丸太町の町家」は社交的な夫婦と小学生の子ども1人のための住宅であり、親族や友人たちをもてなす家でもある。

「通り土間」「火袋」、〈機能のヴォリューム〉とその間の〈家族のスペース〉という構成は、
人々が集い寝食することや、子どもの成長に合わせて生活が変化することに柔軟に対応する。
そんな変化に対応できる建築であり、また時を経てもにぎやかさの絶えない家であることを目指した。


We renovated Machiya built over 120 years ago in Kyoto city.
It is a long and narrow site with a depth of 35m or more for a frontage of about 6m.
The unique composition of the townhouse, which had been lost due to many renovations,
has been restored, and the design is dotted with functional volumes.
The rest of the "Functional Volume" is the "Family Space".
Volumes of different sizes and heights create landscapes reminiscent of cityscapes and cities.
The gaps and omissions created between the volume group and the existing columns, beams,
walls, and floors create continuity in the space.


The children's room on the second floor is designed to emphasize the horizontal lines of the floor and roof.
In addition, the floor of the children's room is 600 mm higher than the floor on the second floor,
so standing on it or sitting there changes the line of sight and changes the consciousness of the space.
The 600mm step gently connects the upper and lower floors.

The lanterns, chozubachi, and stones used in the garden were originally found in this townhouse.
There was a collection of masterpieces collected by grandparents and the landlord before them.